Coyote Sources on the Web. Links to Information, Sounds, and Pictures
I became facinated with the coyote in the early winter of 1996 when a speedy shadow raced across the field behind my southwestern Ohio home and snatched a leaping rabbit. I spent some time doing some personal research on the World Wide Web, libraries and bookstores out of concern for the danger this predator might be to my dogs and children.
What I discovered was a truly remarkable animal worthy of my appreciation.
Please check the links below and here it all from the experts! I've included a few of my quick sketches also.
Coyote Links....adding more as I find them!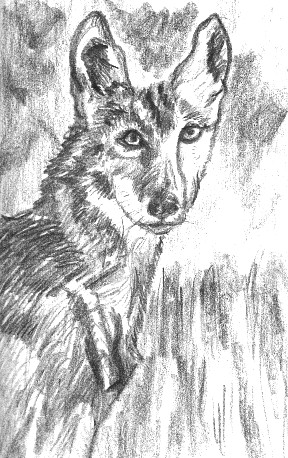 Coyote Hunting Links....I don't hunt Coyote, but some of these links have good pictures and other information references, but nature lovers may have to take them with a grain of salt.
| | |
| --- | --- |
| The ethics debate on hunting and trapping, BOTH sides presented | Hunting, Fishing and Fur |
| Ohio Trapping Rules and links back to general hunting regulations | DNR |
| Picture and Info from a varmit callers group | Coyote Info and Picture |
| Al Harral is a professional varmit hunter. Check out the coyote calling information for some neat sounds. | Coyote Varmit Calling |
| Coyote Predidation Photos | TEXNAT |
| Professional coyote extermination and elimination. Info on guns, ammunition, balistics, and skinning. | Coyote Enterprises |
Fiction Links....Native American, legends and childrens storys.
Animal Damage Control(ADC)....Always lots of controversy about the federal ADC's killing of coyote.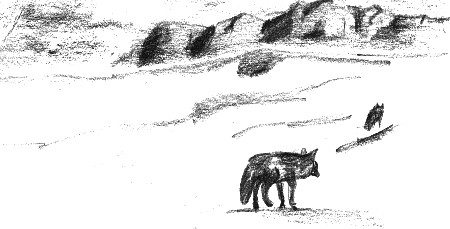 I would like to hear any stories of encounters with coyotes...especially within city limits so please email me your storys...I will post them. If you know of any sites I have missed let me know. My list is ever growning and I welcome additions.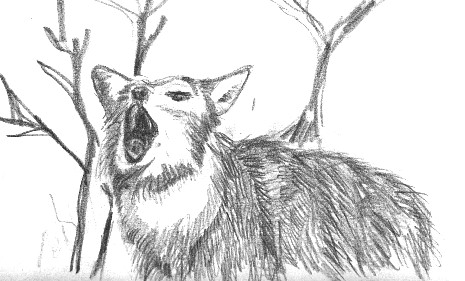 Tim's Thoughts...
Growing up hunting with my father in Kansas I remember the coyote on the "varmint" list...open season...no bag limit and the farmers paid bounty at $10 a head if you shot one from your car on their property.
I had assumed in the back of my mind that the coyote had been going the way of the wolf...dying out..endangered...maybe even protected by the government. None of these is true. As the wolf dies out, the coyote has taken over, as we hunt, trap, shoot, and poison tens of thousands per year the coyote's population and range increase also.
Here are some things I've learned:
Though man has tried often to exterminate him, the coyote now ranges throughout the lower 48 states, Maine, Florida, the southern half of Alaska and down into Central America and across half of Canada. Guess what there is even a pack or two on Manhattan Island in New York!
I think many see the coyote as one of natures hybrids, taking on many of the best features of the wolf, cat, fox and seem to have long term survival coded into their DNA. They eat mostly mice and other small rodents (80%) but will take nearly anything including carrion, watermelons, apples, insects, deer, fish, and birds.
The Coyote is such a survivor that I believe he may outlast man on this planet.
---
FAQ | Tim's Homepage | Sign the Guestbook | Email Tim
... visitors so far.
© Copyright 1997 Tim Jones . All Rights Reserved.